/

/

/

The Medici theatrical mechanisms...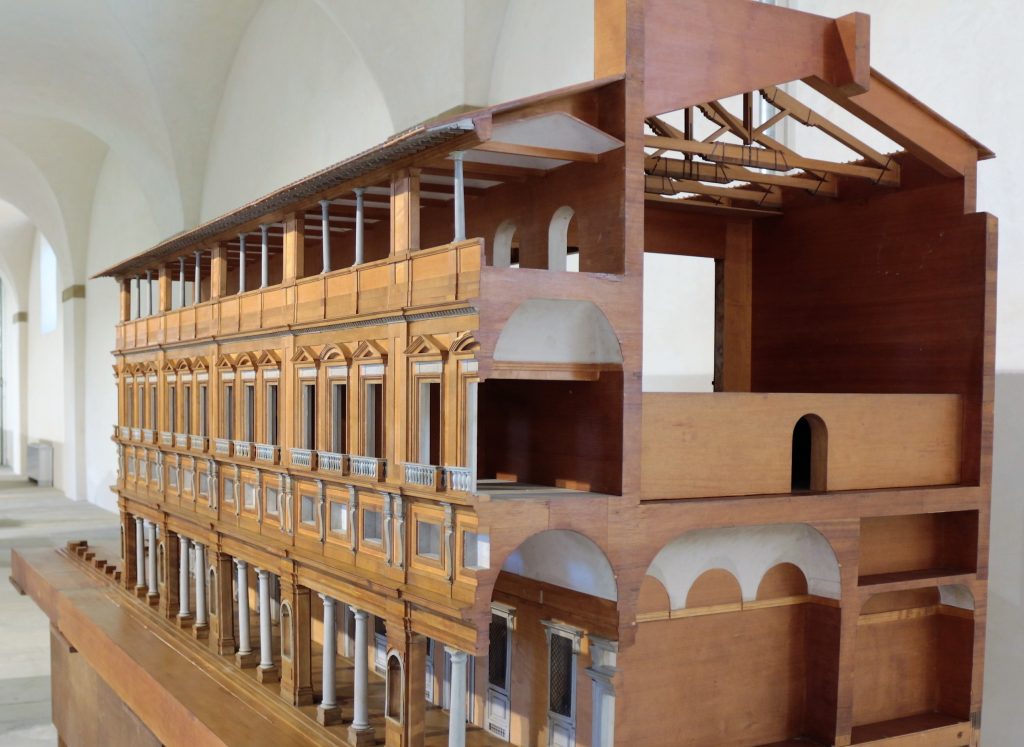 The Uffizi: Teatro Mediceo
The architectural apparatus for the nuptuals of Grand Duke Ferdinand I – 1589
The Theatre Hall
An interpretive model of the theatre built by Bernardo Buontalenti in 1589 at the Uffizi in Florence.
Project by Ludovico Zorzi and Cesare Lisi, constructed by Cesare Lisi – 1975.
Scale 1:25
The sumptuous ceremonial room, called the Teatro Mediceo or Medici Theatre, designed by Buontalenti in the Palace of the magistrates of Florence, in the Uffizi, prefigures the design of an autonomous theatre, to be allocated exclusively to use as a theatre, and is one of the first permanent theatres built in Italy.
The technical detail of the floor that slopes toward the stage in order to facilitate viewing of the spectacle confirms the intention to allocate the rectangular space on the second floor of the Palace to an exclusively functional purpose. The theatre space uses the device of amphitheatre steps, determining an elongated auditorium, and walls adorned by a wooden architecture with arches and arcades.
Bernardo Buontalenti, to reinforce a permanent quality, had the appearance of marble created on the wood that lined the walls and the auditorium. The skilful painting of imitation precious marbles and multi-coloured semi-precious stones, beside typical Florentine decoration, the luminous gilded relief work, the sumptuousness of the spectacle, gave the room an evocative atmosphere. The Teatro Mediceo, during the years in which it operated (at least until the third decade of the seventeenth century) influenced theatres in other Italian courts, such as the Teatro Olimpico of Sabbioneta and the Teatro Farnese in Parma, which still exist today.