/

/

/

The Medici theatrical mechanisms...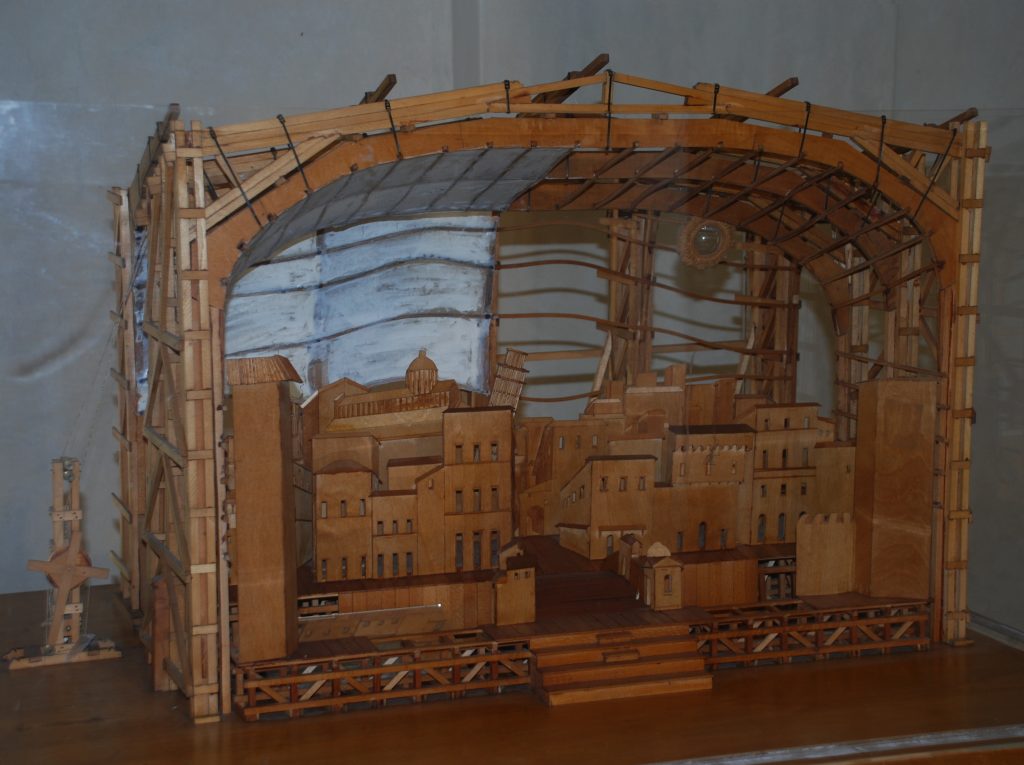 The courtyard of Palazzo Medici:
transformation into a 'theatre'
The stage
Interpretive model of the theatrical apparatus erected in the courtyard of Palazzo Medici in Florence in 1539 Design and construction by Ferdinando Ghelli – 1980.
The model represents the stage of the theatrical apparatus built by Bastiano da Sangallo in the Courtyard of Palazzo Medici in 1539 for the representation of the comedy, Il Commodo, by Antonio Landi.
On stage, the scenery was still typical of the fixed scene type (that is, of those that were still lacking the devices for changing scenes). It consisted of frontally placed elements with the perspective opening of the scene onto a piazza and long street at the centre. It was an example of the architectural inventions of the most famous Renaissance artists, which were soon to become codified elements as interpreted by Sebastiano Serlio (whose treatise was published in Paris in 1545), as the first model of of what came to be known as Italian scenery.
As it was the habit of bringing an Italian city on stage with its symbolic monuments, the city evoked in this case was Pisa, identified by the profiles in the background of the Baptistery, the Cathedral and the Leaning Tower, which were illuminated by the Sun as it passed over
them.